Click here for our community spay/neuter program info

New Rates as of 5/28/15

Help us by raise funds joining iGive. com
Adoption Application
Click here to download an Adoption Application (pdf)
Click here to download an Adoption Application (Word Doc)
Do you have

to

RECYCLE?
Bring them up to us. The money from those bottles and cans will help feed and maintain our dogs and cats.
REMEMBER!
If you take your dog for a walk, remember to pick up after them after they do their business.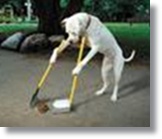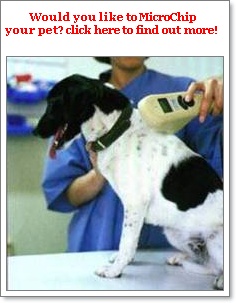 First-Aid Kit Essentials

Emergencies seldom give warning, but we can be ready for them. Most people have first aid kits on hand for themselves and family members. But what about your animals? Pet care experts recommend having a pet first aid kit that's right where you need it if an animal emergency occurs.
You can buy kits that are pre-assembled or assemble your own. Keep them in different locations so that you are prepared at all times, in all places. It's wise to keep one kit at home, one in the car, and wherever else your pet spends time -- the office, a relative's or friend's home, a vacation retreat, etc. If customizing your own, use a container that is sturdy, waterproof and easy to spot when you need to locate it in a hurry.
Here is what every basic first aid kit should contain:
Phone numbers and addresses: Veterinarian, Emergency Vet, Poison Control
Basic pet first-aid book
Photocopies of your pet's paperwork: important medical records, vaccinations, etc.
Medical gloves: to protect hands and prevent contamination
Scissors: to cut gauze or the animal's hair
Bottled water
A mild antibacterial soap: to clean skin and wounds
Paper towels
Gauze pads: for wounds
Gauze rolls: for wounds and can also be used as a temporary muzzle
Alcohol prep pads: to sterilize equipment - NOT for use on wounds
Self-adhesive bandages: flexible bandage used to wrap and stabilize injuries (do not wrap too tightly)
A large cloth towel: to wrap animal
Hydrogen peroxide: to clean minor wounds
Eyewash: such as contact lens solution or water in a squeeze bottle to gently but thoroughly flush out wounds and eyes
Antibiotic ointment: for cuts and abrasions (never for eyes)
Cotton applicator swabs
Tweezers: for the removal of foreign objects from skin and paws; and for the proper removal of ticks
One important rule to observe: make sure to always read directions and warnings before applying any medications, either prescribed or over the counter, to your pet. If you have an emergency, you should always contact your veterinarian for further instruction.
Please make sure to always read directions and warnings before applying any medications to your pet.
11/28/15

Click here to see our Pets of the Week!

Important Info

Stray dogs need to be held for 6 days to allow time for their owners to claim them. If its owner does not claim a dog they will be available for adoption. We are looking for lifelong responsible homes for these wonderful pets.

Dog Adoption Fees

$175.OO

Puppies 6 mos. or less, $35 s/n hold

Fee includes Spay/Neuter, Rabies, Distemper,

Bordatella and Heartworm Test

Ages of dogs are estimates unless previous owners inform us as to correct age.

2015 Rabies Clinics

ADOPTION FEES FOR ALL DOGS IS $175.00

If you have other pets in your household, bring them along to meet their new companion before adoption.

Our dogs want to meet you!!!!
Hope

This is Hope. She is a 1 yr. old Female Pit mix. She was very scared when she arrived at the shelter but she is now coming along. She is currently in training.

$50 of my adoption fee has been sponsored

Nelson

Male Lab/Pit Mix who is friendly and good with other animals.

Chloe

This sweet girl needs a place where she can run and jump around. She also needs to be housebroken.

Buffy(L) and Willow(R)

These two girls are very sweet and loving but they came from a home with no social skills, not housebroken and with a tremendous amount of energy. They are climbers. Right now they are timid. They will need a great deal of work for anyone who adopts them. They are not comfortable with a leash at the present time.

Meet Charlotte, Wilbur and Templeton. These three are retired breeders and are looking for their forever homes. All of these dogs do well with other animals. They are not housebroken and will need help with socialization. Charlotte is a 5-6 year old poodle. Wilbur and Templeton are both 3-4 year old chihuahuas. Adoption fee for our dogs is $175. This includes spaying/neutering, vaccinations, and heartworm testing.
This list from the ASPCA Poison Control Center isn't exhaustive, but it's a great place to start. Share it with adopters and post it on your social media channels to help keep your community's pets safer!
Chocolate, Coffee, Caffeine

These products all contain methylxanthines, which are found in cacao seeds. When ingested by pets, methylxanthines can cause vomiting and diarrhea, panting, excessive thirst and urination, hyperactivity, abnormal heart rhythm, tremors, seizures and even death.

Alcohol

Alcoholic beverages and food products containing alcohol can cause vomiting, diarrhea, decreased coordination, central nervous system depression, difficulty breathing, tremors, abnormal blood acidity, coma and even death.

Avocado

The leaves, fruit, seeds and bark of avocados contain persin, which can cause vomiting and diarrhea in dogs. Birds and rodents are especially sensitive to avocado poisoning, and can develop congestion, difficulty breathing and fluid accumulation around the heart. Some ingestions may even be fatal.

Macadamia Nuts

Macadamia nuts have caused weakness, depression, vomiting, tremors and hyperthermia in dogs. Signs usually appear within 12 hours of ingestion and last approximately 12 to 48 hours.

Grapes & Raisins

Although the toxic substance within grapes and raisins is unknown, these fruits can cause kidney failure. In pets who already have certain health problems, signs may be more dramatic.

Yeast Dough

Yeast dough can rise and cause gas in an animal's digestive system. This can be painful and can cause the stomach or intestines to rupture. Because the risk diminishes after the dough is cooked and the yeast has fully risen, pets can have small bits of bread as treats. However, these treats should not constitute more than 5 percent to 10 percent of daily caloric intake.

Raw/Undercooked Meat, Eggs and Bones

Raw meat and raw eggs can contain bacteria such as Salmonella and E. coli. In addition, raw eggs contain an enzyme called avidin that decreases the absorption of biotin (a B vitamin), which can lead to skin and coat problems.

Xylitol

Xylitol is used as a sweetener in many products, including gum, candy, baked goods and toothpaste. It can cause insulin release in most species, which can lead to liver failure. The increase in insulin leads to hypoglycemia. Initial signs of toxicosis include vomiting, lethargy and loss of coordination. Signs can progress to recumbancy and seizures. Elevated liver enzymes and liver failure can be seen within a few days.

Onions, Garlic, Chives

These vegetables and herbs can cause gastrointestinal irritation and could lead to red blood cell damage. Although cats are more susceptible, dogs are also at risk if a large enough amount is consumed. Toxicity is normally diagnosed through history, clinical signs and microscopic confirmation of Heinz bodies. An occasional low dose, such as what might be found in pet foods or treats, likely will not cause a problem, but pets should not be given large quantities of these foods.

Milk

Because pets do not possess significant amounts of lactase (the enzyme that breaks down lactose in milk), milk and other milk-based products cause them diarrhea or other digestive upset.

Salt

Large amounts of salt can produce excessive thirst and urination, or even sodium ion poisoning in pets. Too much salt can cause vomiting, diarrhea, depression, tremors, elevated body temperature, seizures and even death.
Story on CBS Evening News Tuesday Nov. 3, 2015
Sweetener in some sugarless gums can kill dogs
An alarm is being raised tonight about a potential danger to your pet -- a sweetener used in some sugarless gum and other products could kill a dog.

Sam Caress and Jordan Pellett recently adopted Gunner. He's helped fill the hole in their hearts created when Luna, their two-year-old dog, died in April after getting into some chewing gum made with the sugar-substitute Xylitol.

She started vomiting, they rushed her to the vet -- but it was too late.

"They gave us a phone call saying her kidney tests weren't good, and that they were shutting down, and that we didn't really have any other choice but to put her down," said Sam Caress.

Xylitol is safe for humans but can cause severe low blood sugar, seizures -- even liver failure -- in dogs.

Sugar-free gum is the biggest culprit. But Xylitol is also used in some sugar-free candies, chewable vitamins, even some baked goods and peanut butter.

The number of products is on the rise and so are the calls to the ASPCA's Animal Poison Control Center, from 82 in 2004 to more than 3,700 last year.

Some animal welfare groups are calling for warning labels on products with Xylitol.

Dr. Ashley Gallagher with the Friendship Hospital for Animals in Washington D.C. says the key is vigilance on the part of dog owners.

"You just have to be really careful because dogs are nosy little creatures and they are hungry all the time. I know my dogs are, and they are just looking for a treat. So you have to really watch them," Gallagher said.

Sam and Jordan go one step further, "With a lot of things like candy and gum and peanut butter -- we check all of them -- and if they have xylitol in them, we don't buy them."

Dr. Gallagher says dog owners should go through their kitchen and check the labels of all products that say "sugar-free." Anything that contains xylitol should be put up the top cabinets -- way out of reach of pets