Do you have

to

RECYCLE?
Bring them up to us. The money from those bottles and cans will help feed and maintain our dogs and cats.
Seresto Flea
Collar users
Many of you know that we sell Seresto collars for dogs and cats at the shelter. As of this week our good friends at TLC Grooming in Perth will be selling the collars for us as well. These collars are $52 and come with a $15 mail in rebate. That means for a final cost of $37 you get 8 months of flea and tick prevention. Stop by either location and get your collar.

11/15/18

STARTS TOMORROW (11/16)
James A. Brennan Annual
NOVEMBER 16-29
Donations now being accepted.
Donations can be dropped off at the shelter during our regular hours
Call the shelter
at 518 725-0115
On November 16th we will be starting our sixth annual "Thanks For Giving Online Auction". The event will start at 6pm on the 16th and end on November 29 at 8pm This event is one of our two major fundraisers that we hold every year. If you have an item that you would like To donate please either contact us here on Facebook or you can call the shelter and ask for Christie 518-725-0115.
Auction Rules:

1. All bid increments must be in dollar increments.

2. Any auctions with an alcohol beverage or product you must be 21 or older. All winners of these auctions will be required to show ID when picking up the items.

3. Each bid you place must have the dollar amount of bid and also your email address. Any bids without this will be deleted no exceptions.

4. All winners will be contacted as soon as possible. You will have one week from day of contact to make payment either in person or via PayPal.

5. All items will need to be picked up at the shelter or pay shipping costs plus the auction.

6. The items that will be up for bid will be in a photo album labeled "6th Annual Thanks For Giving Online Auction. You must place bid as a comment under item you are bidding on.

This is the perfect opportunity to get some of your Christmas shopping done.
The employees of Taylor Made Products in Gloversville are collecting supplies for us! If you would like to help us out, donations can be made at Taylor Made. We are so thankful for the support of our communities.

B.J.'s wholesale club in Rotterdam is collecting supplies for us this month! The donations are adding up quickly and we are super grateful for their support.

A big Thank You to The Sunset Bay Vacation Resort in Mayfield. Over the Summer residents collected over 17,000 bottles and cans for the animals at the shelter. Every nickel helps and 17,000 nickels really add up.
| | | |
| --- | --- | --- |
| We are currently accepting applications for a part time maintenance person. Duties will include but are not limited to lawn care, general building maintenance and repair, shoveling, and snowblowing. Successful applicants will have a general knowledge of building and grounds maintenance. Hours will vary from 10-15 per week and schedule is somewhat flexible. Rate of pay is minimum wage. This would be ideal for a retired person. Applications can be picked up at the shelter during our normal business hours. | | We are currently accepting applications for part time employment. Rate of pay is minimum wage. This position will include a variety of tasks including: cleaning kennels and cages, washing dishes, doing laundry, socializing and preparing animals for adoption, and dealing with the public on a daily basis. Successful applicants will be flexible, punctual, able to understand verbal and written instructions, and be self starters. Applicants must have a flexible schedule as hours will vary on a weekly basis. Weekends are a must, as are a clean driver's license, and a reliable vehicle. All applicants should be 18 years of age or older. We are a quality of life shelter. Applicants should have a genuine desire to enhance the life of our residents during their stay at the shelter. Applications can be picked up at the shelter during our normal business hours. |

Some of the new designed T-Shirts we now have at the shelter.

Prices run from $10 to$18.

2018 Rabies Clinics

Fulton County Law requires Dogs/Cats to be vaccinated at 3 months of age
FULTON COUNTY RESIDENTS ONLY
HAMILTON COUNTY RESIDENT IF PRE-REGISTERED
$5.00 Donation per dog/cat/ferret CASH ONLY
Cats/Ferrets MUST be in a carrier or box. Dogs LEASHED
Vaccinations are good for one year UNLESS prior rabies Certificate is presented at registration.
ALL CLINICS ARE HELD AT THE COUNTY HIGHWAY GARAGE BEHIND THE COUNTY SERVICES COMPLEX
2714 ST. HWY 29
Johnstown, NY 12095
| | | |
| --- | --- | --- |
| WEDNESDAY | FEBRUARY 21 | Pre Reg. at 5:30 clinic at 6PM-8PM |
| WEDNESDAY | APRIL 18 | Pre Reg. at 5:30 clinic at 6PM-8PM |
| WEDNESDAY | JUNE 20 | Pre Reg. at 5:30 clinic at 6PM-8PM |
| WEDNESDAY | JULY 18 | Pre Reg. at 5:30 clinic at 6PM-8PM |
| WEDNESDAY | SEPTEMBER 19 | Pre Reg. at 5:30 clinic at 6PM-8PM |
| WEDNESDAY | NOVEMBER 28 | Pre Reg. at 5:30 clinic at 6PM-8PM |
SPONSORED BY FULTON COUNTY
PUBLIC HEALTH
smile.amazon.com

Amazon donates 0.5% of the price of your eligible AmazonSmile purchases to the charitable organization of your choice.

AmazonSmile is the same Amazon you know. Same products, same prices, same service.

Support your charitable organization by starting your shopping at smile.amazon.com.

Click here learn more about sign up and start shopping for the JABMHS!
To Top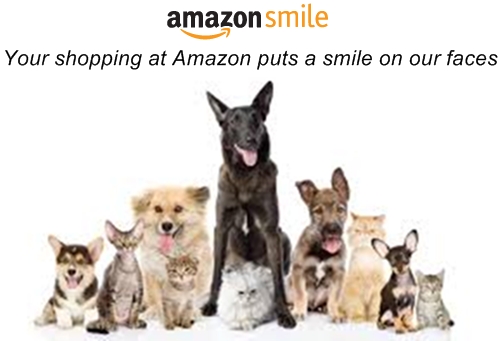 Human Foods Pets Should Never Eat

This list from the ASPCA Poison Control Center isn't exhaustive, but it's a great place to start. Share it with adopters and post it on your social media channels to help keep your community's pets safer!

Chocolate, Coffee, Caffeine - These products all contain methylxanthines, which are found in cacao seeds. When ingested by pets, methylxanthines can cause vomiting and diarrhea, panting, excessive thirst and urination, hyperactivity, abnormal heart rhythm, tremors, seizures and even death.

Alcohol - Alcoholic beverages and food products containing alcohol can cause vomiting, diarrhea, decreased coordination, central nervous system depression, difficulty breathing, tremors, abnormal blood acidity, coma and even death.

Avocado - The leaves, fruit, seeds and bark of avocados contain persin, which can cause vomiting and diarrhea in dogs. Birds and rodents are especially sensitive to avocado poisoning, and can develop congestion, difficulty breathing and fluid accumulation around the heart. Some ingestions may even be fatal.

Macadamia Nuts - Macadamia nuts have caused weakness, depression, vomiting, tremors and hyperthermia in dogs. Signs usually appear within 12 hours of ingestion and last approximately 12 to 48 hours.

Grapes & Raisins - Although the toxic substance within grapes and raisins is unknown, these fruits can cause kidney failure. In pets who already have certain health problems, signs may be more dramatic.

Salt - Large amounts of salt can produce excessive thirst and urination, or even sodium ion poisoning in pets. Too much salt can cause vomiting, diarrhea, depression, tremors, elevated body temperature, seizures and even death.

Yeast Dough - Yeast dough can rise and cause gas in an animal's digestive system. This can be painful and can cause the stomach or intestines to rupture. Because the risk diminishes after the dough is cooked and the yeast has fully risen, pets can have small bits of bread as treats. However, these treats should not constitute more than 5 percent to 10 percent of daily caloric intake.

Raw/Undercooked Meat, Eggs and Bones - Raw meat and raw eggs can contain bacteria such as Salmonella and E. coli. In addition, raw eggs contain an enzyme called avidin that decreases the absorption of biotin (a B vitamin), which can lead to skin and coat problems.

Xylitol - Xylitol is used as a sweetener in many products, including gum, candy, baked goods and toothpaste. It can cause insulin release in most species, which can lead to liver failure. The increase in insulin leads to hypoglycemia. Initial signs of toxicosis include vomiting, lethargy and loss of coordination. Signs can progress to recumbancy and seizures. Elevated liver enzymes and liver failure can be seen within a few days.

Onions, Garlic, Chives - These vegetables and herbs can cause gastrointestinal irritation and could lead to red blood cell damage. Although cats are more susceptible, dogs are also at risk if a large enough amount is consumed. Toxicity is normally diagnosed through history, clinical signs and microscopic confirmation of Heinz bodies. An occasional low dose, such as what might be found in pet foods or treats, likely will not cause a problem, but pets should not be given large quantities of these foods.

Milk - Because pets do not possess significant amounts of lactase (the enzyme that breaks down lactose in milk), milk and other milk-based products cause them diarrhea or other digestive upset.
Home | About Us | Adoptable Dogs | Adoptable Cats | Happy Tails | Latest Scoop | Donate | Animal Cruelty | Forever Loved |
| Community Support | Helpful Links
D. Dougherty, webmaster
ddougher@nycap.rr.com or jabmhs@yahoo.com